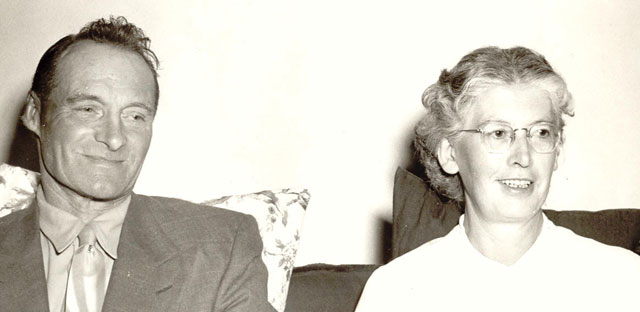 History of Frank Jackson
From the Keg River History Book Way Out Here
Frank Jackson was born in Southend, England, in 1892. He came to Canada with his father on March 10, 1904. His mother and three sisters followed that May, settling in Medicine Hat. At the age of 14 Frank began working on a ranch where he first hurt his knee. He had knee surgery on it but it never completely healed. He walked with a limp for the rest of his life.
Later Frank bought a section of land on Red Deer Lake, about 30 miles east of Wetaskiwin. His parents moved from Medicine Hat to a half-section near him, where they retired. At Red Deer Lake Frank became the secretary of local school board and a councilor for the Municipal District. He was not allowed to join the army in 1918 because of his bad knee.
Frank first married Louise Barr. She had been born in Wisconsin and came to Alberta with her mother, sister and stepfather when she was two or three. She had been raised on a farm in the Wetaskiwin area.
Frank and Louise had two sons: Louis Albert, born on October 30, 1918, and Arthur Carl, born on October 6, 1919.
After losing about 50 head of cattle in the extremely harsh winter of 1919-20 at Red Deer Lake, Frank considered moving. He looked at the Keg River Prairie in May of 1920, after which he and Louise decided that this would be their new home.
Frank and a hired hand put some of the haying machinery and horses in boxcars which transported them to Judah, 12 miles out of Peace River- the end of the rails at that time. The machinery was then hauled into the town of Peace River and taken by boat to Carcajou
As they transported the equipment overland from Carcajou to Keg River they discovered something that Frank had been warned about, but was not a problem when he had visited in May - the flies, mosquitoes, bulldog flies and no-see-ums (sand flies). They darkened the sky around any living thing and were very bothersome for the horses. The first trip from Carcajou to the Prairie took two days. They made two more trips bringing in the equipment. Over the years many more trips were to be made over that trail.
Before Frank returned to Red Deer Lake for his family he hired some Natives to continue the haying while he was gone. This trip, Frank and Louise brought everything that they owned. They brought furniture, chickens, milk cows and horses. The calves were sold when they got to Edmonton.
Again they traveled by train the by boat; even the cows got on the boat. At the Keg River Landing across from Carcajou they disembarked and began the trek overland to Keg River. They camped along the trail. Once at Keg River they moved into a cabin built by Dick Hutchings. He had come to Keg River as part of the survey crew and had stayed. He planned to be away from Keg River and had loaned his cabin to the Jackson family.
The trip south from Edmonton had taken about two weeks and all the animals survived, but the adjustment to Keg River was not to be so uneventful. Frank eventually lost many of these animals to swamp fever in Keg River.
More animals were purchased, a three-room house and barn built, and Frank and Louise settled into life at Keg River. Corrals were built for the cattle, Frank applied for a grazing lease on the Prairie and Louise started growing a garden and preserving the harvest.
In the 20's Frank got together with John Brown and formed the Keg River Trading Company. They built a store and warehouse, brought on supplies from Edmonton, grubstaked trappers and bought their fur.
Frank bought supplies for his new store. The tea came in 100-pound chests, coffee beans in 100 pound barrels, dried fruit in 25 pound boxes, and jam and syrup in cans. There were no cigarettes but Old Chum tobacco and cigarette papers were stocked, as was chewing tobacco which came twisted like rope in 100 pound wooded caddies. Gunpowder, shot and shells were also stocked. Eventually a warehouse was built on the bank of the Peace River where the boat dropped off the supplies. They were freighted overland to Keg River
Allie Brick operated a trading post for the Keg River Trading Company at Rainbow Lake for two years. After it lost money both years, it was sold to Revillon Freres.
When the Depression hit in 1929, fur prices fell and never recovered. The Keg River Trading Company was shut down in 1949.
In 1929 tragedy struck Frank's family. After giving birth to their third son in Keg River in October, Louise became ill. Dr. Hamman arrived from Fort Vermilion and decided that she should go out to Edmonton. A plane was sent from Peace River, after a messenger who traveled overland as no telephones sent word or two-way radios existed. Louise was flown to Edmonton where she died in hospital. Her newest son, also named Frank, went to live with his mother's parents near Wetaskiwin.
Frank Sr. and his two older boys carried on. He filed for homestead land when it opened up and began breaking the land with an 18-inch walking plow. His first crop - in fact the first in the district - was five acres of oats.
Frank developed a friendship with Dr. Mary Percy in Battle River and they married in 1931. She left Battle River when her contract with the government was up and moved north to Keg River. Together they watched more people move to the Keg River area. Mary carried on practicing medicine whether her patients could pay her or not.
Frank and his new wife moved onto the homestead and Frank built an office and waiting room in the basement of the house in which Mary practiced. Frank built a successful farm. The farm was called Kewenteno, meaning "north" in Cree. The yard around their house reminds everyone of an English garden.
Frank and Mary had two children, Lesley Anne and John Robert. They experienced many hardships caused by the weather and the remoteness of the area in which they made their home, but they laughed, made many friends, and carried on as well.
Frank was a handyman and did many things very well. He ran his own farm, and had a large well equipped repair shop where he fixed his own, and many of his neighbors' machinery. He installed the electrical wiring, heating and water systems in his own house. Over the years he tried his hand at wood carving and produced many of the pieces of furniture in his own home, and even tried sculpting. He did a fine job of the pieces that can still be found in the yard of his home.
Frank and his family were given the Master Farm Family Award in 1953 after being nominated by their neighbors. It was awarded after the farm scored well in the areas of farm operation, farm life, community work, and business management. The Peace River Gazette of October 1, 1953, announced the award and described the farm: "Mr. Jackson is a general farmer, with grain his major but with livestock and poultry sideline which gives his farm operation the flexibility to meet the sudden market changes. He keeps an average of 200 acres in Garnet wheat, 150 acres in Victory oats, 250 acres in Olli barley and about 30 acres each in flax and alsike. His oat yield averages 80 bushels to the acre while he reaps about 30 bushels of both wheat and barley to the acre. His livestock is made up of 10 purebred Angus beef cows and a splendid purebred bull, two dairy cows which are a cross between Shorthorn and Holstein, nine first-grade Yorkshire sows, and a small herd of Suffolk sheep."
Other awards went to Frank and Mary Jackson, such as the Alberta Achievement Award in 1976, given "In recognition of the outstanding service in the community."
In 1974 Frank became ill and Mary retired from medicine to look after one special patient. Frank died in 1979 at the age of 87.
In 1986 a variety of barley developed in Beaverlodge at the experimental farm by Dr. Wolfe was named "Jackson", to commemorate Frank's contribution to agriculture in the Peace. The barley is a high-yielding, six-row variety. It was developed with the hardiness and resistance necessary to thrive in northern Alberta. It seems fitting that this barley be named for a man who has those characteristics.
Frank's story was published in the form of two books, A Candle in the Grub Box (1977) and Jam in the Bedroll (1979).